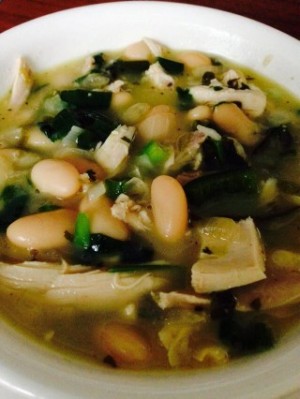 When the weather starts to cool off (Mid December here in Florida) I love to make this and invite over friends. Don't forget a nice crusty loaf of bread to sop out the bottom of your bowl.
3 pounds bone-in, skin-on chicken breasts
salt and pepper
1 teaspoon vegetable oil
4 poblano chiles, stemmed, seeded, chopped medium
2 jalapeno chilies (1 large, 1 small), ribs removed, seeded, minced (set the small one aside)
2 onions, minced
6 garlic cloves, minced
2 tablespoons dried oregano
2 tablespoons ground cumin
8 cups chicken broth or stock
3 cans (15-oz each) cannellini (white kidney beans) or navy beans, drained and rinsed
¼ cup fresh lime juice (3 limes)
¼ cup minced fresh cilantro
4 scallions, sliced thin
Season the chicken breasts with salt and pepper. Heat the oil in a large dutch oven over medium-high heat until just smoking. Sear the chicken, skin side down, until browned, about 4 minutes. Flip the chicken and sear on the second side until browned, another 4 minutes. Transfer the chicken to a plate and remove and discard the skin.
Add all of the chilies (except the small jalapeno), onions, garlic, cumin, oregano, and 1 teaspoon salt to the dutch oven. Cover and cook over medium-low heat, stirring often, until the vegetables are softened, 12 to 15 minutes. Transfer half of the chile mixture to a clean plate and set aside.
Stir in the broth, chicken, and beans. Bring to a boil over medium-high heat, reduce the heat to medium-low, and simmer, stirring occasionally, until the chicken is fully cooked, about 20 minutes. Using tongs, transfer the chicken to a large plate. Continue to simmer the chili, uncovered, until it has thickened, 35 to 40 minutes. I also like to mash some of the beans with my spoon to thicken up the broth.
When the chicken is cool enough to handle, shred the chicken into bite-sized pieces, discarding the bones. Stir the shredded chicken, reserved chile mixture, lime juice, cilantro, scallions, and small jalapeno into the chili. If the chili is too thick, stir in water, if it is too thin, stir in corn meal one teaspoon at a time until desired thickness is achieved. Season with salt and pepper to taste and serve.