Cowboy Caviar – Awesome Vegan Appetizer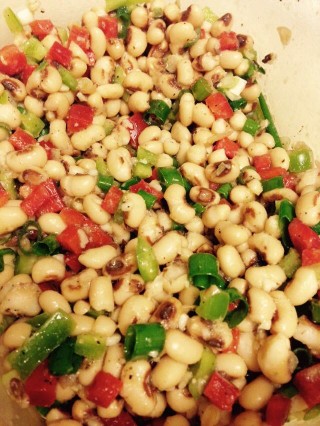 Super low-cal, vegan and tasty!
Calories: 18 per tablespoon Fat: 1g total, 0g saturated 0mg cholesterol
2g carbs 1g fiber 1g protein.
I always make a double batch for parties
1 can (15oz.) black-eyed peas, rinsed and drained
¼ cup thinly sliced green onions
¼ cup finely chopped sweet red pepper
¼ cup finely chopped green pepper
2 cloves garlic minced
2 tablespoons cooking oil (I use olive oil)
2 tablespoons cider vinegar
1 to 2 fresh jalepenos, seeded and chopped (optional)
¼ teaspoon fresh cracked black pepper
Dash salt
In a bowl combine all ingredients. Cover and chill for 2 hours or overnight.
Serve with crackers or tortilla chips. Makes 2 cups.