Michigan Style Almond Boneless Chicken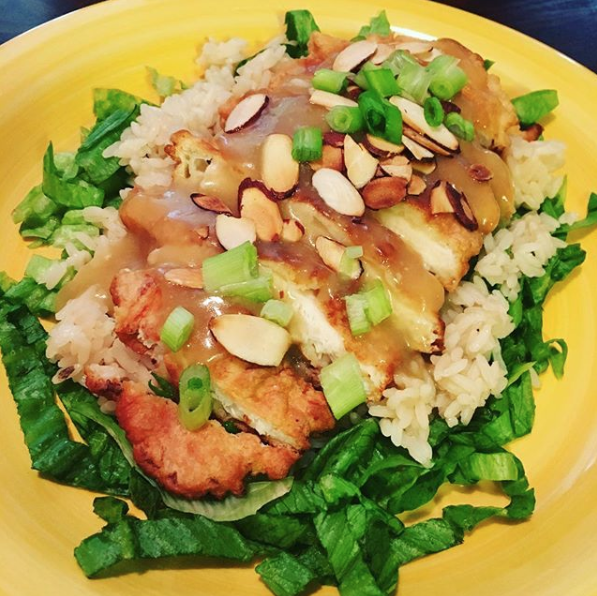 Growing up in Michigan I always thought that one of my favorite Chinese food dishes, Almond Boneless Chicken was a Chinese take-out staple. Nope. I moved to Orlando 20 years ago and searched in vain for this awesome dish. I always ended up finding chicken and vegetables with almonds mixed in. Not what I had in mind. Then on a visit up my dad says he was making it. I was so happy. He got the base of this recipe from a Test Kitchen. He modified it suit his tastes and it turned out wonderful.
Thanks to this article I learned that Almond Boneless Chicken is Cantonese Style! In Michigan we call it ABC for short and it's a yummy endulgent fried breast of chicken served over lettuce and sometimes rice and covered in gravy. Ingredients for gravy include low-sodium options as the usual versions make the gravy way too salt forward.  This recipe serves 3-4 people. Enjoy!
---
Chicken:
Gravy:
4 tablespoons cornstarch
4 tablespoons water
2 cups low-sodium chicken broth, homemade or store-bought
3 tablespoons unsalted butter
2 teaspoons reduced sodium soy sauce
1 tablespoon Better Than Bouillon Chicken flavor
1 tablespoon chicken bouillon granules
Batter:
6 tablespoons cornstarch
6 tablespoons flour
1 teaspoon baking powder
2 eggs, beaten
5 tablespoons Water
Remaining Ingredients:
1 cup shredded lettuce
3 cups of Jasmine rice
1/3 cup slivered almonds (toasting is optional)
2 green onions, finely chopped (both green and white parts)
Oil for frying chicken, as needed
Preparation:
Toast slivered almonds in a dry pan over medium heat until they are golden.
If preparing rice in a rice cooker add equal amounts of Jasmine Rice and water to your cooker and start the machine. It should cook for about 20 minutes and rest for 10. You can also make rice on the stove top. I recommend against Minute Rice as it doesn't have the texture to compliment the dish .
Sprinkle chicken with salt and sherry and marinate on a plate for 15 minutes.
While chicken is marinating, prepare the gravy.  Mix together the cornstarch and water in a small saucepan until smooth.  Gradually mix in the chicken broth, butter, soy sauce, Better Than Bouillon, and bouillon granules.  Bring the mixture to a boil, stirring constantly.  Let boil for 1 minute, then turn down the heat to very low and keep warm.
Pat dry chicken with paper towels, then drop them into a plastic bag with a small amount of flour.  Coat chicken, then shake off excess flour and place floured chicken on a cooling rack for 5 minutes.  A hard flour glue will harden on the chicken (it later helps the batter stick).
Heat large skillet and add oil to a depth of 1/2-inch.  Heat on medium-high to 375 degrees.
To prepare batter, beat together the cornstarch, flour, baking powder, egg, and enough water that the batter is smooth and looks like pancake batter. Coat each piece of chicken with the batter individually and drop them gently in the pan. Don't overcrowd the pan with too many pieces at once.
Be careful as some pans require a lower heat setting. Check the oil temperature with a thermometer to be sure.  Drop chicken into batter and cook coated chicken pieces in oil until they are golden, turning them once.  This should take about 5 – 7 minutes.  Drain the chicken on paper towels. If making a double batch you can keep the chicken warm in a 200 degree oven.
Cut the chicken diagonally into strips.  Reassemble the strips into chicken breast shapes and place on a bed of lettuce covered with rice.  Spoon the gravy over the chicken. Sprinkle with toasted almonds and green onion and serve immediately.