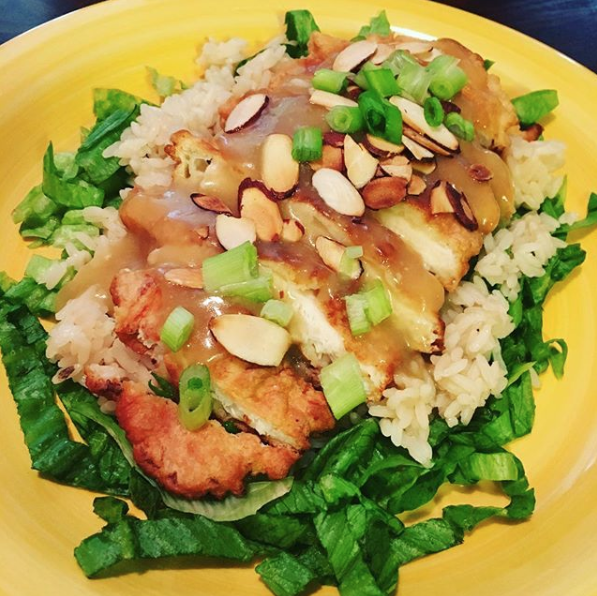 If you're seeing this you've been invited to dinner at my house! Please select a dish!
Most popular by far:
Beef and Broccoli over jasmine rice
Almond Crusted Cod, coconut jasmine rice, and broccoli or asparagus
Seared Scallops, with creamy scallion orzo
Almond boneless chicken (pictured)
Asian lettuce chicken wraps – good for you and super tasty
Shrimp Fajitas – guac is never extra at my house, but I am 
Chicken Lombardy – Chicken with mushrooms, mozzarella, and scallions in a Marsala wine sauce.
Country Lasagna – Lasagna made with egg noodles instead of lasagna noodles, you don't cut it you scoop it!
Kielbasa Pasta – Kielbasa, green peppers, onion, and tomatoes with colby jack cheese
White Chicken Chili – A bit spicy but the cilantro and lime cut the heat, served with homemade bread. (Weekends only)
Charcuterie Board – Prosciutto, Salami, assorted cheeses, baguette, nuts, jams, grapes, crackers. Bring wine!
—
Not as popular but just as good!
Chicken Tortellini Alfredo
Steak and asparagus
Garlic Mustard Pork Loin
Pot Roast
Creamy Chicken Mushroom Rice
Sausage Pepper Onion Hogies
Chicken Parmesan
Stuffed Peppers
Steak with Mushroom Couscous
Chicken Biscuits and Gravy
Roasted Chicken Thighs
Ahi Tuna Poke Bowls
Salad Bar – Grilled Chicken, lettuce, tomatoes, cucumbers, radishes, shredded cheese, croutons, green peppers, hardboiled egg, red onion, crispy wontons,
Taco Night – Crunchy and soft taco shells, beef, cheese, lettuce, tomato, sour cream, guacamole. Refried beans on the side. Corona beers likely.