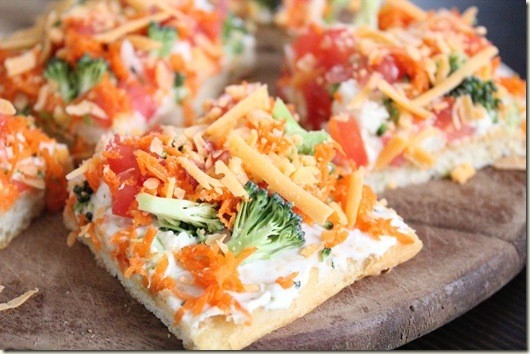 2 cans crescent rolls
1 package Hidden Valley Ranch Dressing (dry packet)
2 (8 oz.) packages cream cheese softened
1 cup mayonnaise
¾ cup diced green pepper
¾ cup chopped broccoli
¾ cup grated carrots
¾ cup diced tomatoes
¾ cup chopped cauliflower
¾ cup chopped mushrooms
¾ cup grated cheddar cheese
Cover bottom of a jelly roll pan with rolled out crescent dough. Bake dough in a 350° oven for 10 minutes or until light brown. Cool. Beat cream cheese, mayo and dry dressing until smooth. Spread over crust. Mix vegetables and sprinkle over the top. Sprinkle cheese over vegetables. Refrigerate (preferably overnight) Cut into bars and serve. Don't store in an airtight container as this will make the bars mushy.