Asian Lettuce Chicken Wraps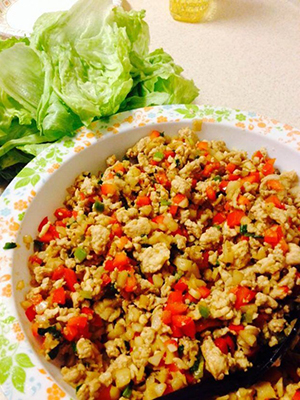 I hate long recipe intros. Quite simply this recipe is a delicious and diet friendly dish!
The recipe references oil (or broth). I always used vegetable oil until I saw a TV show where the chef used broth for a similar recipe instead. This being such a calorie conscious meal, I prefer using broth. Calorie count at the end.
Pro tip: Chop your veggies first!
Ingredients:
1 bag Romaine lettuce
1 ½ Tablespoons hoisin sauce
3 Tablespoons soy sauce
1 Tablespoon water
4 cloves garlic, minced
1 teaspoon grated fresh ginger
3 teaspoons vegetable oil (or chicken broth, more on this later)
1 pound ground chicken
1 red bell pepper, finely diced
1 (8-ounce) can water chestnuts, drained and chopped fine
5 scallions, chopped
Instructions:
Remove sturdiest leaves from head of lettuce; reserve remaining lettuce for another use.
Whisk hoisin sauce, soy sauce, and water together in a small bowl.
In a separate small bowl combine garlic, ginger, and 1 teaspoon of oil (or broth).
Heat 1 tablespoon of oil (or broth) in large nonstick skillet over medium-high heat. Cook chicken, stirring to break up clumps, until cooked through and begins to brown, about 4 – 5 minutes. Season with salt and pepper and transfer to bowl.
Add remaining tablespoon oil (or broth) to skillet. Add bell pepper, water chestnuts, and scallions and cook until peppers soften, about 3 minutes. Clear center of skillet, add garlic mixture, and cook until fragrant, about 30 seconds.
Add chicken and sauce and stir until thickened, about 30 seconds. Put mixture in a large bowl to allow it to cool so it doesn't wilt lettuce. Spoon mixture into lettuce leaves and serve.
Great to make ahead of time and mingle rather than cook as guests arrive!
Update:
Someone asked about the calorie content of each wrap.

The whole batch using oil = 1389 calories.

Divided by 8 servings they are 173 calories apiece.
Divided by 10 servings they are 139 calories apiece.

The whole batch using broth instead: 1049 calories

Divided by 8 servings they are 131 calories apiece.
Divided by 10 servings they are 105 calories apiece.