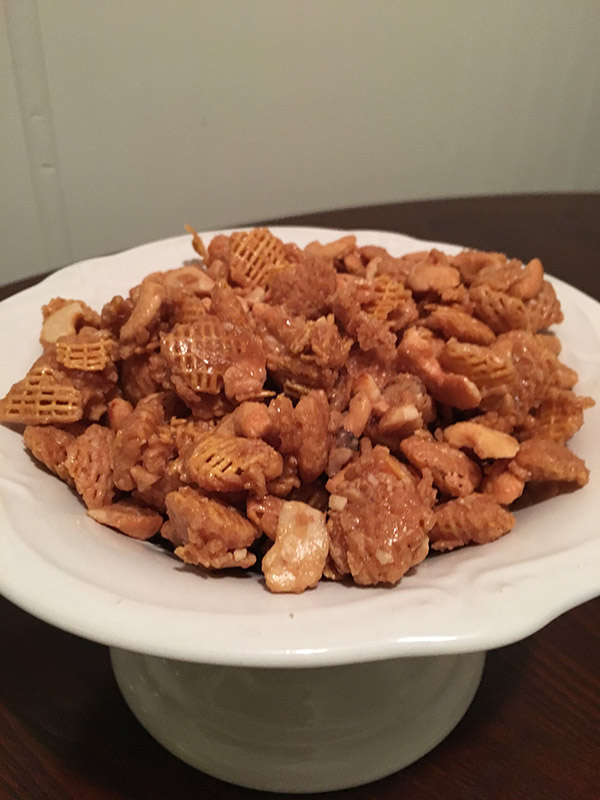 Kristmas Krak was my dad's favorite Christmas snack. He would make a huge batch and bring it to every party and give it out as gifts. Enjoy your new addiction!
Ingredients:
1 box of Kellogg's Crispix cereal (12 oz.)
12 oz. (2 – 6 oz. tins) of cashews
1 cup (2 sticks) of unsalted butter (do not use margarine!)
2 cups brown sugar, firmly packed
½ cup light Karo syrup
1 teaspoon vanilla
½ teaspoon baking soda
Instructions:
Pre-heat oven to 250 °
Mix dry ingredients in a very large bowl.
In a large sauce pan, slowly melt butter then whisk in Karo syrup, and finally, the brown sugar.
When well blended, bring to a boil and boil for 1 minute.
Add vanilla and baking soda
Beat vigorously until light and frothy.
Pour Saucepan mixture over the cereal/nut mixture and gently stir to thoroughly mix together all the ingredients .
Spread mixture onto two large cookie sheets lined with parchment paper; gently breaking up the large clumps until you have a fairly uniformed layer on each pan.
Bake for 30 minutes, stirring the mixture every 10 minutes.  Swap the rack position of the pans each time you return them to the oven. Not doing so may result in one tray over-baked and one tray under-baked.
When mixture is completely cooled, transfer to the Krak to air-tight storage containers.
I'm thinking about doing cute mason jars full of the stuff as gifts for my UPS guy, folks at work and other friends. Merry Christmas everyone!