How To Pack For A Cruise!
Click here for a printable PDF version!
Clothes
Pants-Skirts
Shirts-Blouses
Belt
Dress Shoes
Comfortable shoes
Flippy-floppies
Socks
Workout clothes
Swimsuits (2 at least so one dries while the other in use)
Suit Coverup
Undies and bras
Formal Evening Wear for Captain's Dinner night
Dinner Wear for formal dining room dinners
Sundresses
Shorts
Tops
T-shirts
Light sweater-Hoodie
Robe
Jammies
Hat/visor (wide brim sunhat recommended)
Hygiene-Medical
Hair ties/clips
Makeup
Hairbrush
Hairspray/Gel
Deodorant
Shampoo
Conditioner
Soap
Razors-shave gel
Toothbrush
Toothpaste
Floss
Curling or Flat Iron (After some debate they do allow these on the boat. Yay!)
Lotion
Face moisturizer (even if you don't do this at home – trust me)
Sunscreen
Chapstick
Kleenex
Tweezers
Nail clippers/file/polish
Cologne
Q-tips
Tampons
Prescription Glasses
Contact Lenses/Solution
Medicine (aspirin, pepto, Lactaid, tums, bandaids, vitamins, eye drops)
Medical ID info
Birth Control Pills/Condoms
Prescription medicine and medical devices
Documents & Misc.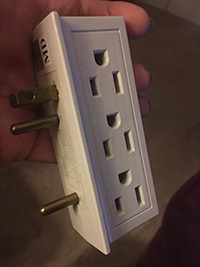 Cell phone & Charger
USB wall plug
Multi-plug for outlet (Like above. Usually there's one outlet and many things to charge. Note: they can't have surge protection or they will confiscate it from you. )
Sunglasses
Earbuds
Laptop/Tablet & Charger (I wouldn't recommend this, you might be tempted to work and the wi-fi is really expensive out to sea)
Credit Cards-Debit Card
Money (Most ports of call take US cash)
I.D.-Drivers License
Passport
Birth Certificate if no passport
Itinerary
Tickets – boarding passes – confirmation #'s
Luggage Tags (Most ships print these with your other documents)
Keys
Jewelry
Watch
Purse – Wallet
Journal
Luggage Locks/keys
Safety pins-sewing kit
Ziploc bags (for waterproofing your phone and collecting shells)
Cigs, Lighter, E-Cigarette-Charger
Gum/Mints
A leisurely book or magazine
Your Hangover Cure
Don't forget to…
Throw out stuff in the fridge that will be gross by the time you get back
Lock all doors and windows- set alarm
Lock your car
Have neighbor check the mail/feed animals
Go shopping for missing items-in travel sizes!!!
Put ID tags inside luggage in case your luggage tags fall off
Change $40 into small bills for street vendor purchases and tips
Put all nail files, scissors in checked luggage if flying
Send email to important people (I'll be out of the country…)
Get a ride to the port
Call mom – give her your itinerary, she worries you know
Pay bills that will come due while you're gone
Put all "necessities" in the carry-on, you may not get your bags delivered for hours
Double check all reservations – you need ID, ticket and boarding pass
Get to the port early – plan to spend time parking whether on-site or off-site
Bring goodies for theme nights
Notes:
I generally change 3 times a day. Pj's to shorts and tee, to swimsuit, to dinner wear back to PJs. Yes, bring that crazy print shirt, now's the time for these type of things.
I listed shampoo and soap because I can't use any old brand, that will be in the room as will a blow dryer.
Make sure you don't pack your ID and boarding pass in your checked luggage.
You may not be able to get into your room right away, don't carry on too much.
Your bags won't arrive at your room right away, don't leave necessities in them.
You are allowed to bring one regular sized bottle of wine per person, it must be in your carry-on. Get screw top so you don't need an opener.
If you don't drink you can usually bring a 12 pack of your favorite soda instead.
If you get tipsy on 2 drinks or don't drink, don't get the drink package, Otherwise, get the drink package! Drink package allows you to grab bottled water at the bar. Bring a few back to the room so you don't drink the expensive mini-bar offerings in desperation. Also sink water kind of ick to brush your teeth with.
Room service is free and it's nice to have a coffee and some fruit before you go battle the crowds at breakfast. Put your request outside your door before you go to bed.
Make your room number your phone lock screen.
Every day your room attendant will leave a brochure of ship activities for you. Be sure to read it so you don't miss out on Bingo or an amazing theater show. Last trip my roomie paid for the whole cruise by winning Bingo.