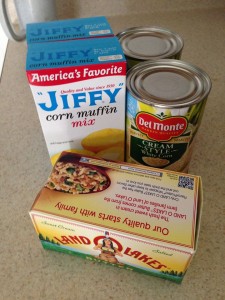 Many have asked for my sweet corn cake recipe so I thought I'd put it up here so you can make it too. It's embarrassingly simple.
1 box Jiffy Corn muffin mix,
1 can of creamed corn,
1 stick of melted butter.
Mix together and bake at 425 for 30 minutes. I double, triple and quadruple the recipe depending on the crowd (more time needed for a fuller pan). When done a toothpick will come out clean. I also use a aluminum disposable cake pan so no dish to clean or bring home from a party.
Oh, were you waiting for a novel of info having nothing to do with this recipe? Sorry, not my style 🙂 This corncake recipe is courtesy of Ramone, from a Mexican Restaurant that shall not be named.